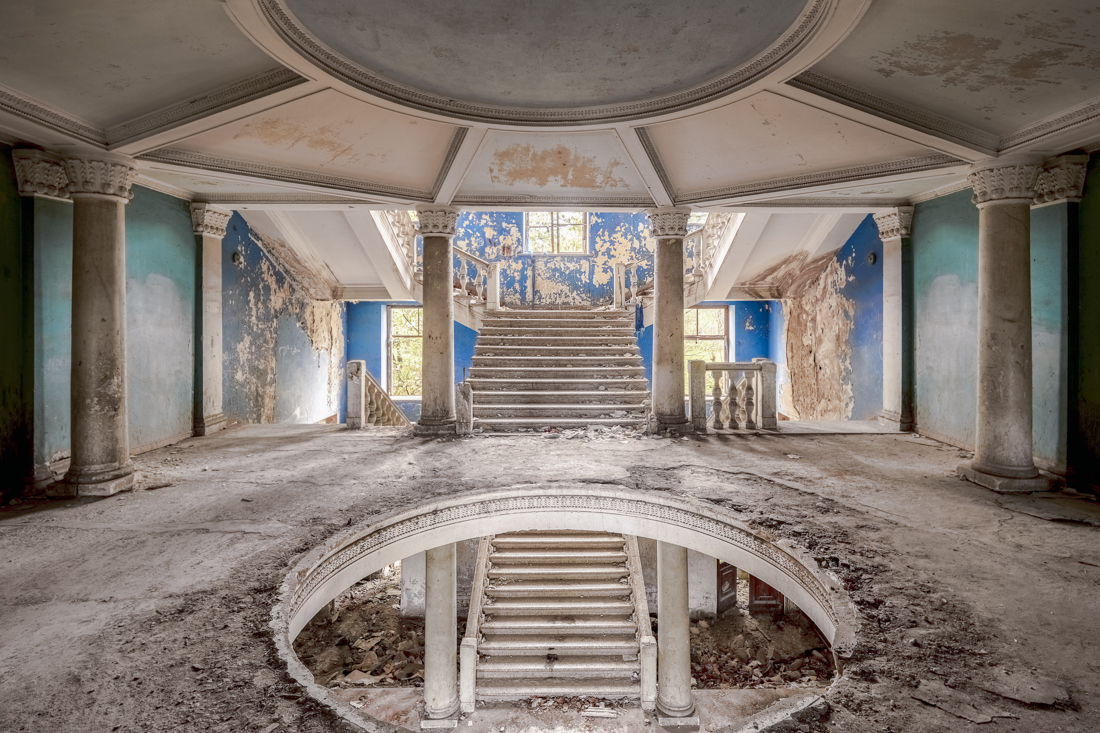 Intersection 
Sanatorium Iveria - According to an online Georgian news site, the Iveria was sold a couple of years ago for a little over one hundred thousand US dollars. Not a bad price, but there is a catch: the terms of sale state that the buyer should invest at least €6 million in building a hotel with 160 rooms and employ over 80 people. Sadly the terms don't state that any original features must be retained.
Missing Parquet
A stripped floor inside the same Sanatorium, fails to hide the beauty in the ceiling.
The Companionway
A stunning set of stairs (multiple stairs) inside a former sanatorium in Georgia. I am proud of this composition and it is one that I thought long and hard about whilst on location.
CROSSOVER
The former Hotel Sakartvelo - I actually do not mention this former hotel in my video, it is by far the place in the worst condition and by far the place that hit home the most to me about the plight of these IDP's that have now been making these buildings their homes for over 25 years. Incredible situation for anybody to find themselves in.
STANDING TALL
Hotel Medea - I actually had a "wow" moment when I first laid eyes on the entrance to the former hotel Medea, with it's stunning blue ceiling and marble columns. I visited this location on both of my visits, and on both times I got speaking to the locals here and asked if it was ok to take images of their now home, despite 50% of the large structure now under heavy decay.
ELECTRIC TONES
Shooting back to front this is the same former sanatorium, shooting on the balcony in the image above.
THE CLAW
Imereti Sanatorium - This amazing building is 50% in use as well and it is distinctive as it has a yellow and blue dome with columns and a stunning trio of fantastic staircases, one of which is is heavy decline.
SPIN OFF
The same building as the previous image. One of the things that sticks with me about this building were the little gardens created out of the rear, by the now residents. This made you appreciate the lengths that the people have gone to call these buildings home.
The Patrol Lookout
We thought we had missed the chance to see this former Sanatorium, turned out we were in time - just as this former sanatorium is currently under renovation.
STRIPPED
Sanatorium Meshakhte - The grand hall looks a little worse for wear now that this former sanatorium is now under renovation.
FOYER
Hotel Metalurgi - This former hotel has a large number of occupants and had fewer damaged and abandoned parts than many other hotels or Sanatoriums that we visited.
Pink & Baby Blue
The main hall inside a former sanatorium now housed by a handful of refugees in Georgia.
Forgotten somewhat, these refugees need to fend for themselves year on year.
TREATMENT CENTRE
Bathhouse Number 5 - I visited this bath house twice in 2018, and this is the place the amount of graffiti has really taken a foot-hold. Disappointing. The interior was large and it would have looked pretty impressive in its day. Several of the deep, yellow-tiles baths are now heavily graffiti's, but we did find one angle to shoot here.
The Sanctuary
Hotel Tbilisi - A building very much now the home to IDP's (Internally displaced person's), being respectful here was paramount - I also had to ensure that I cleaned up the courtyard prior to taking my one photograph and also seek permission out of respect.
END OF THE LINE
Tskaltubo train station, Western Georgia. Now under renovation, the town as a whole has the potential to become a new cultural and tourist center of Western Georgia. Nearby the International Airport in Kutaisi, which receives a large number of international flights every day; important tourist sites like Sataplia (with dinosaur footprints), and the Prometheus Caves are rated one of the best in Europe.
THE TAKEOVER
Stepping foot over into the war-torn region now and ivy takes over the stairwell of this heavily decayed meeting place and communal hall in Abkhazia.
All Encompassing
A brightly coloured former Soviet theatre lights up what was a miserable day outside, Abkhazia 2018.
BURNT TONES
The heavily stripped shell of a former train station booking hall, stunning height, details and colour. Abkhazia 2018.
Grand Station
The wing of a beautiful former train station in Abkhazia. The architecture we came for - despite the weather.
Waterlogged
An abandoned train station in the former Soviet Abkhazia, 2018.
SQUARES & SHAPES
A disused train station in Abkhazia shot in 2018. One of the cleanest examples.
Light Beam
This grand building was actually in one of the most disgusting states that I have ever seen, it is essentially now a drug den. The war torn region of Abkhazia, 2018.
Circumvoluted
An abandoned sanatorium come hotel with so many nice staircase shots. Abkhazia 2018.
WELCOME
The entrance to a park in the capital of the breakaway territory. Abkhazia 2018.
Upstairs/Downstairs
A former Soviet Sanatorium come hotel that has been derelict since the war with Abkhazia in the 1990s.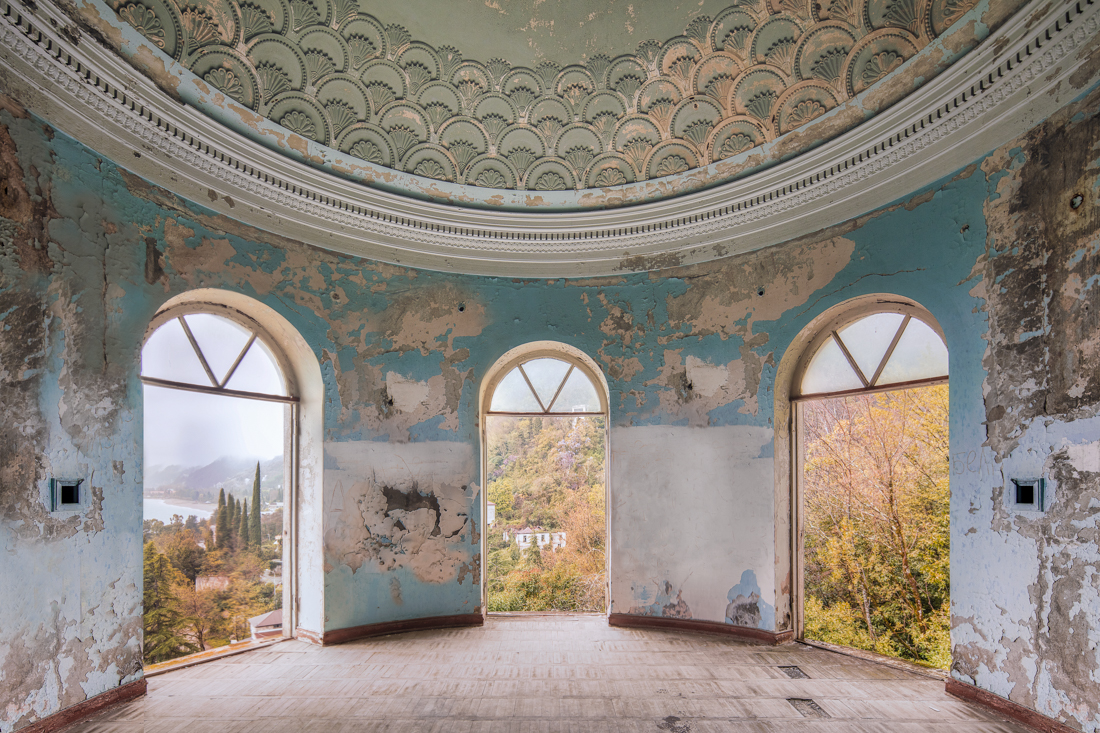 Room With A View
A lot of work was required to clean this up from very recent graffiti in Photoshop - but I felt it was worth the effort to clean up this abandoned Soviet Sanatorium. Abkhazia 2018.