Spin Spin Sugar | Abandoned Castle, Germany
In August 2018, upon entering an abandoned castle in Germany, we discovered a dress hanging up - presumably left by another model during a shoot. So we came up with a quick shoot idea with Jade modelling said dress. Three exposures later.
Porcelain Centre | France
Design and dress choice by Jade, room section and props by myself. Shot in an abandoned hotel in France last year, a real rush against time as the sun dropped in the sky.
The Midnight Glow
Racing across to Europe last weekend we ended up inside this abandoned French Chateau late on Friday night. I lit the place up once in with LED panel lights and me and Jade proceeded to have dinner at the kitchen table a surreal experience.
The chateau was stunning, one of the best that I have ever seen, and I had a little vision that I wanted to create using speedlights with the dress Jade just so happened to have in the car. However, just as I set up my batteries died in my LED panels and then I discovered I had forgotten my AA batteries for my speedlights anyhow, so we left and returned the next morning, batteries in hand and recreated my night scene.
I've actually produced a "how to" video of this one which you can now see here, containing my new intro: https://youtu.be/Dc-k0zp9Ikg
Model: Jade Stacy Maria
Dress: Molly Nguyen Design
DEGRADATION
Model: Tonya
Dress: Rosie Red Corsetry
Location: Abandoned Orphanage, UK.
Date: October 2014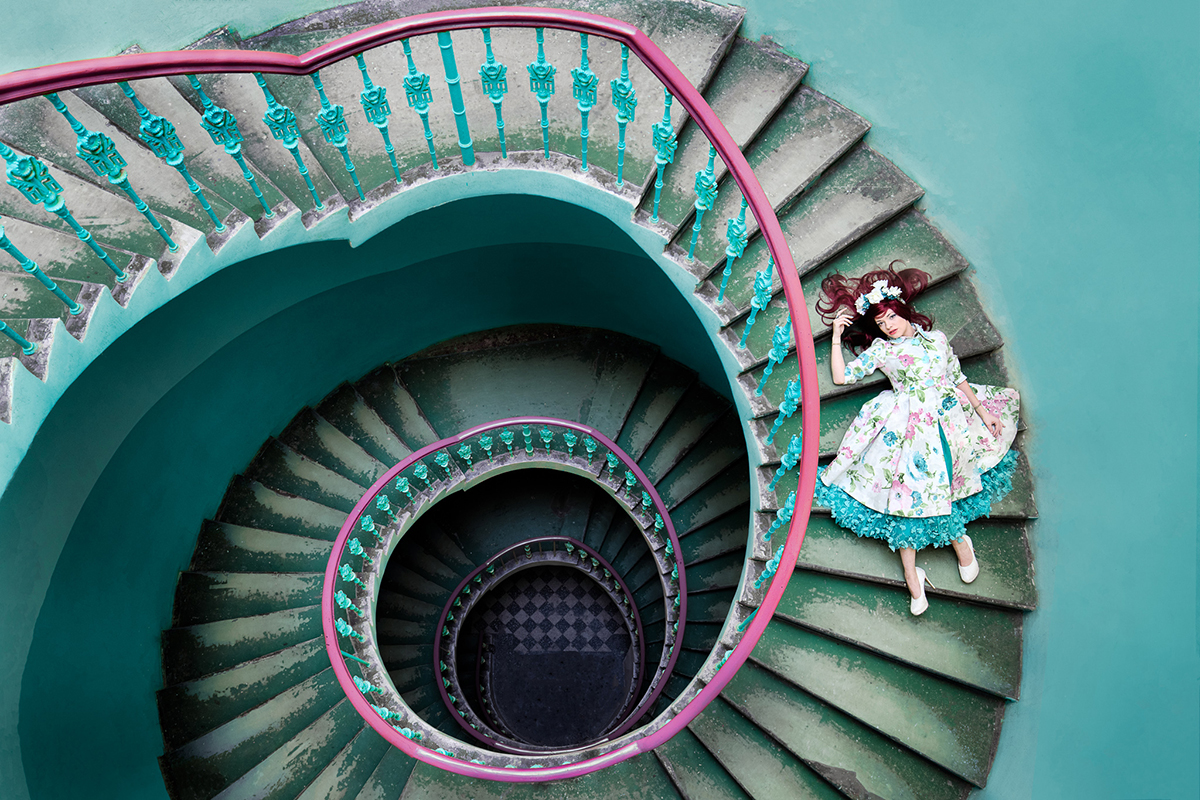 LE GRAND JOUR
Model: Jade
Dress: Silk Rose Bespoke
Location: Abandoned house in Paris
LA DOLCE VITA
Model: SadieAnn
Dress: Silk Rose Bespoke
Location: Abandoned Chateau France
Feature Page 34-35 La Dolce Vita Diamond magazine - December 2015.
Bladerunner 2.0
Ever the thrill-seekers, Jade popped on a red dress to make herself "pop" from my scene whilst inside this huge former power plant in Hungary.
Magical Iceland || Sprinkles of Orange
It is almost 4am and we are in Southern Iceland, and the only people awake around Skógafoss are two young girls looking on as we started setting up in front of the cold yet extremely awesome falls.

The sun had not set at all that night yet again, but we had been stopped in our tracks by the rain earlier in the evening. So we were forced to stay local to our tent once more and decided to under take some model images in front of the now famous falls.

Model | Jade
Dress | Thu Hien Nguyen
CHOREOGRAPHY
Model: Ayla Rose
Assistant: Jade Stacy Maria
Location: Derelict School, UK
AERONAUTICS
Beautiful Model: Jade Stacy Maria
Wearing the Spix top by CYBERESQUE.
Location: Derelict office block, Belgium. in August 2015
APTITUDE
Model: Sadie Ann
Designer: Lady Lucie Latex
Location: Mouthballed steelworks in Belgium
JOYRIDE
Model: Jade Stacy Maria
Wearing a vintage dress by Retro Revolver
Location: Abandoned train, Belgium. in August 2015
LOST
Model: Jade Stacy Maria
Location: Derelict castle in Belgium
Featured in Photography Masterclass, December 2015.
This is the result, 29 images, shot at f/2.8, covering the whole scene, including the model and the details.